Access Statement
Gleddoch was originally built in 1926 and therefore does have some physical limitations to accessibility. We welcome people with disabilities and have developed this access statement to address some of the more common issues that disabled people face. Please explain any individual needs to our reception team, who will be able to advise on the most suitable options. We aim to ensure that all employees, guests, and others who use the hotel are treated equally and according to their needs.
We are located just 20 minutes from the centre of Glasgow but set in the quiet countryside. Whilst we aim to meet the needs of all our guests there are some period features of the hotel which might make access difficult for people with limited mobility. We have free on-site parking with a stoned drop off bay at the entrance, however, the walk to the front entrance is paved with a ramp for wheelchair users. We are also close to key transport links, with Glasgow Airport just 10 miles away and Edinburgh Airport just 57 miles along the road. We can arrange taxis for any time of day or night.
Map: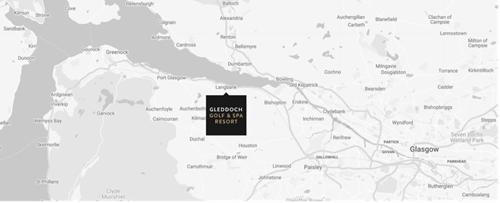 Parking:
There are 145 car parking spaces on site with 3 disabled spaces available. The carpark is well lit at night.
The main entrance door is manual and measures 109cm in width and 211cm in height.
We have golf buggies available to assist you around the hotel grounds, these are only available to use during day light hours due to the buggies not having lights.
If you require buggy, please do not hesitate to contact us.
Bedrooms:
All of our bedrooms are carpeted with tiled bathrooms. Most of the bedrooms are not suitable for wheelchair users, but are suitable for people with some reduced mobility, such as those using walking sticks or crutches. We have 2 accessible bedrooms that can be entered via step-free access on the ground level of the hotel which would be suitable for wheelchair users. Please ask which rooms would be most suitable for your individual needs when booking.
Public areas:
All public areas within the hotel are well lit. Our VISTA restaurant and The Nineteenth are located on our upper ground floor whilst our DRAM bar and Camellia Lounge are located on our lower ground floor. Step-free access between the upper and lower ground floors is accessible via the outside of the hotel with use of your car or our golf buggies. Our spa and golf facilities can also be reached with step-free access externally.
Toilets:
Disabled toilets are located in the hotel lobby with fitted grab rails next to the toilet and sink.
Dining:
We offer room service until 10pm. We cater to allergies and different food intolerances although we cannot guarantee against trace elements. If you have a dietary requirement, please make us aware at the time of booking as well as letting your waiting staff aware and we can discuss another option for you. Our chefs are happy to discuss any different requirements.
Events and Meeting Spaces:
We have two event spaces in the hotel (The Garden Room & The Kilpatrick Suite), both are carpeted, however, The Garden Room has a pull out hard laminate dancefloor. The Garden Room is situated on the lower ground floor and The Kilpatrick Suite is on the upper ground floor. We have 2 accessible bedrooms that can be entered via step-free access on the ground level of the hotel. The nearest accessible toilet is for The Garden Room is located in the lobby. The nearest accessible toilet for The Kilpatrick Suite is located next to the main Vista toilets as you come in via the Vista entrance on the left-hand side. Step-free movement between the two event rooms is available via golf buggy upon request. Both our meeting and event rooms are wheelchair friendly. We have a full team of experienced and professional event staff who can help you with every aspect of planning your event and cater to your individual needs.
For full details on event room accessibility please contact our events coordinator on 01475 540 810 or email info@gleddoch.com
Additional information:
Clear signage throughout the hotel
The nearest general hospital is the Royal Alexandra Hospital which is 11.1 miles away from the hotel
The nearest doctors surgery is Houston Surgery which is 4.9 miles away from the hotel
Mobile phone coverage is generally good throughout the hotel
Free WiFi is available throughout the hotel
Hours of operation:
Hotel reception: 24hrs
Spa & Leisure: Weekdays 6:30AM - 10PM (last entry is 9:15PM), Weekends 8AM - 8PM (last entry is 7.15PM)
Golf Course: Weekdays 8AM - 6PM, Weekends 11AM - 5PM
VISTA: Weekdays 7:30AM - 10AM & 4PM – 9PM, Weekends 8AM - 10:30AM & 4PM - 9PM
(No food served between 4PM - 5PM)
The Nineteenth: 12PM – 4PM
DRAM bar: Thu-Sat 5PM - late
Camellia Lounge: Closed Monday & Tuesday, Wednesday-Sunday 12PM - 4PM
Contact information:
Gleddoch
Old Greenock Road
Langbank
Glasgow
Renfrewshire
PA14 6YE
Tel: +44(0)1475 540 711
Email: info@gleddoch.com
Please ask reception for any further details.